WELCOME TO THE HEART
OF THE HIGH COAST
We can offer you a peaceful setting in a great location where you can both recharge your batteries and base yourself while exploring the High Coast. Rich local cultural history and fun outdoor life meet here at Pelle Åbergsgården in the middle of the High Coast's most spectacular scenery. Hiking trails pass right by our doorstep and we are close to several of the High Coast's absolute highlights, including Mannaminne, Själandsklinten and the picturesque village of Bönhamn. Join us here at comfortable and sustainably run Pelle Åbergsgården in either our cosy artist's studio or beautiful spacious farmhouse with both full board with all meals included and self-catering options.
We can also put together accommodation/hiking/biking packages for you. Our hiking packages with full board are a popular choice for people having a stay-cation at home in Sweden. 
Hiking, biking, paddling, skiing – book one of our outdoor or inspiration packages
Pelle Åbergsgården is the place to come for a climate-smart holiday, all year round. Our tailor-made accommodation and experience packages will help you make the most of your visit. Right at our door is the new Björnåsleden Trail, which joins up with the 100-km World Heritage Trail. You can also rent the equipment you need to fully explore the nature that surrounds us. Please let us know if you want any of these additional services when you make your booking. 
More information about our packages >>> 
Information about the Region >>>
Information about our rental fee and prices for packages >>>
Let us help you organise your meeting or conference
We can help you with inspiring conferences and meetings for smaller groups – all in our sustainable environment close to nature. Please contact us to discuss your requirements and we will tailor-make a conference package in partnership with other local companies. 
A place rich in cultural history
Pelle Åbergsgården is where Stockholm artist Pelle Åberg (1909-1964) spent his free time with his family and other artists. His son Anders Åberg later created the outdoor museum Mannaminne, which is located only a few kilometres away. We have a deep connection with the local history of the area and our vision is to preserve it and to share it with others.
Please contact us for booking enquiries and more information​
Availability calendar for the Farmhouse:
The rental fee for the Farmhouse:
1-2 persons 1295 SEK/night
3-4 persons 2795 SEK/night
5-6 persons 3195 SEK/night
7-8 persons 3595 SEK/night
Minimum stay is 2 nights.
Please contact us for more information
THE FARMHOUSE
Comfortable, sustainable holiday accommodation with full board or self-catering options. Our large, fully equipped farmhouse has room for couples, families, groups of friends, larger family groups or work colleagues. It's open all year round, is 107m2 and can accommodate 2-8 people. The ground floor has a large fully equipped country kitchen with a dishwasher and newly installed built-in fireplace, two bedrooms and a toilet in the hallway. On the floor above there is a large living room and two more twin bedrooms. The living room has a breathtaking view over the valley towards the artist's studio and the village of Själand. There is plenty of space for resting, socialising, playing board games, reading, etc. There are games and books for all ages and toys for the youngest. Outside the busy summer season, you are welcome to rent the farmhouse's ground floor by the room; you can rent either one or two twin rooms and have access to the kitchen and toilet.
SAUNA AND LAUNDRY
In a separate building right next to the farmhouse there is a large shower room with two showers and a big sauna for you to enjoy with full privacy. This building also has a drying cabinet and separate toilet and a shower that is for the use of people staying in the artist's studio. Farmhouse guests can use the toilet inside the farmhouse.
OTHER
The farmhouse has WiFi. On the south-facing lawn there is outdoor furniture with a covered area, barbeque and outdoor games. Please respect our smokefree policy indoors.
DOGS ARE WELCOME
If you want to bring your dog with you, please contact us in advance so we can discuss terms and conditions. 
ARRIVAL AND ADDITIONAL SERVICES
Warmly welcoming our guests is very important to us and we make every effort to personally welcome you when you arrive and give you tips and ideas for daytrips and outings that will suit your interests. Check in is from 15:00 and check out is by 11:00 on the day of your departure.
When you book self-catering accommodation, cleaning is the responsibility of the guests; please follow the cleaning instructions provided. You can purchase a cleaning service if you would like, and rent linen and towels from us. We can also arrange breakfast ingredients for you and put them in the fridge. Please let us know if you want any of these additional services when you make your booking.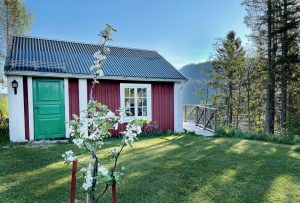 Availability calendar, Artist's studio:
The rental fee for the Artist's studio:
1295 SEK/night
Minimum stay is 2 nights.
Please contact us for more information.
THE ARTIST'S STUDIO
Accommodation with a magical view over Nordingrå. The Artist's Studio sleeps two people and is located behind our private residence overlooking a steep valley with breathtaking Nordingrå scenery. This is a private oasis that is really close to nature: there is both a bird observatory below it and rich animal life in the forest behind. The artist's studio is 20 m2, has twin beds, a fully equipped kitchenette for self catering with hot and cold water, a fridge and a small cooker. There is a pleasant outdoor area with a terrace where you also have access to hot and cold water. The toilet and a shower is located in the separate laundry building for you. If you would rather have complete privacy, you can use the outdoor area on your terrace where you can wash with hot and cold water. 
You have your own balcony with a beautiful view over Själandsklinten and morning sun, and your own private lawn on the other side of the studio with afternoon and evening sun. We rent out the artist's studio to one or two people for periods from minimum two nights. The artist's studio is available all year. Between November to April you are warm welcome but we can only offer you the cold wather in a dunk in kitchen for cooking during the winter.
We are Mirja and Fredrik and we own Pelle Åbergsgården in Nordingrå. We fell in love with the High Coast's amazing nature, the people who live here and the Nordingrå area while holidaying here, and we decided to move to the area permanently in the autumn of 2018. We come from the Stockholm region and Mirja grew up in Helsinki. We want to offer our guests everything that made us fall in love with the High Coast as tourists, and also what we thought we wanted but couldn't find.  Giving our guests a positive experience when staying with us is our top priority and we hope that your stay will be filled with harmony, amazing outdoor experiences and new insights, and that you will appreciate our focus on sustainability and quality.
We live in a house that shares the same garden as the farmhouse and artist's studio but we are always sure to give our guests plenty of privacy. If you need help or any questions answered, we are right here and very approachable. We love offering tips and ideas based on your interests.